Human
Character information
Name:
 Yurei (The Amnesiac Wanderer)
Age:
Early Twenties
True Age:
???
Sex:
Male
Personality:
Yurei has a calm and emotionless demeanor and speaks only when he really needs to convey his thoughts. Despite his detached nature, once he gets to know someone, Yurei becomes much warmer, and easier to talk to. He is most relaxed around those who have earned his trust, and loyalty, saying that "It would be obvious to act like that, around those you care about the most." Yurei has a strong sense of duty, and is also very stubborn. Once he decides on a path, he follows it. even if it means pain to himself. He is also a pure warrior, responding to others fighting spirits, and isn't afraid to kill, if the fight demands it. He has fought more Heanta than most people due to this, and because of the Heanta's natural propensity for violence. 
Yurei does not hold anything that is said about race decide who he hates, and likes. In his mind, it is the sins of the self that matter, rather than the sins of your people. This goes for himself as well. He tries to live his life without regrets, and do what is right. Even if a path led him to do the wrong thing, he accepts what he has done, and moves on. He does not like to feel depressed about the past. The future is forever forward, and that is the path that Yurei walks, for good, or for bad. Despite his detached demeanor, he can get angry. Harming people who aren't involved in a fight is a quick way to rise his anger. Insulting someone who fought with all of their strength is another example.
During a fight, Yurei is incredibly focused on his opponent, or opponents. He can be merciful, but doesn't find killing his opponent to be a bad thing. Even compared to his normal demeanor, Yurei is even less talkative. In his opinion, anything less would an insult not only to his opponent, but to himself. He doesn't have an unnatural need to fight, but enjoys a good battle nonetheless.
Yurei is also incredibly intelligent. Even with waking up on Ka'Lesa with no memories beyond his name, and what his blades were called, and what their enchantments are, he quickly learned about the current places, politics, and factions in the land. This intelligence extends to fighting as well. Even while liking a good fight, Yurei is smart enough to tell when he is outclassed, and isn't afraid to retreat from a foe much more powerful than him. He can also pick up on things quite easily, and likes to learn about new things. It is one of the reasons for his current wandering lifestyle. He also doesn't feel he needs to regain his memories. Or, at least, he is in no rush to gain them back. He has a feeling, that they will return to him when the time is right.
Yurei also takes pride in keeping his equipment, and body in the top condition he can have it as. He cleans his blades every other week, or right after a fight to keep them in pristine condition. He also keeps them as sharp as possible. He will also take a couple of hours to go over his fighitng style, practicing his moves, and keeping himself at the top of his game. Anything less than that is unacceptable in his eyes. However, he won't take that mindset to far. He won't tell others what to do, in terms of their bodies, or weapons. At most, he'll offer a friendly tip.
Likes/Dislikes:
(List some things your character likes/dislikes.)
Fears:
(Everyone is afraid of something. Must have 3.)
Appearance
Height:
5'10"
Weight:
156 Lbs
Appearance:
 Yūrei is a young man, appearing to be in his early twenties. He has pale skin, and is considered handsome. His face is has a softer look to it, with rounder cheeks. His eyes have bags under tham, as if Yurei doesn't get enough sleep. In contrast, his eyes are a sharp, bright gold, and are full of energy. He almost always appears to have a serious look on his face. However, when he does relax, his features soften even more. Yūrei has raven black hair, reaching a little past his shoulders, to the small of his back. His bangs frame his face, and he has a length of hair crossing his face in the front, to the right. The top of his hair is messy. The bangs are held in place by his red headband. Yūrei is lean, but is very muscular for his size. He keeps himself in top physical condition, in order to continue fighting at a level that he believes suits him.
Clothing:
 Yūrei, in terms of clothing, tends to keep his outfit simple, for fighting purposes. He wears a black, sleeveless, leather-like chest piece, with white accents detailing his musculature, and black trousers, made of the same material. He has black boots, with a strip of metal on the front of them. Over his right arm, he wears a red sleeve, held in place by a red string. He leaves his left arm sleeveless. Around his waist is a red, cape like attachment, held in place by a tied, white sash. He also wears a white robe over his left arm. It's very easy for him to throw off, in a fight.
Fighting Style
General Fighting Tactics:
Yurei, despite having two blades, is much more comfortable fighting with one. His fighting style could be simply stated as an explosion of close range speed and power. Yurei is incredibly fast with his strikes, and he has strength to match it, making it so taking a hit from him is a very bad idea. However, Yurei is something of a glass cannon type character. His durability is not very good, so it's a fine line for him of giving heavy, fast strikes, while not receiving any. Yurei is also a pure warrior, and is very good at finding ways to get through his opponents defenses. It's almost second nature to him, and he doesn't really need to think all that hard during a fight.
Yurei's fighting style also incorporates a type of magic not usually seen on Ka'Lesa. Blood Magic. He has become very good at keeping this a secret, often waiting for an opponent to open up a wound, which usually leads to Yurei surprising them with a spike of blood. Though, he has also been known to use it at the start of a fight. However, this also means he has to take a hit, which, if the strike is bad enough, could take him out to begin with.
Heroic Trait:
Enhanced Strength
Combat Stats-
( All stats are considered average unless stated. Stats must be balanced. You must decrease a stat to increase a stat. Raising one to good means you must lower one to fair. Read The Character Combat Stats Guide for more information)
Strength
|| Very Good
Speed
||  Very Good
Agility
||  Good
Durability
|| Poor
Stamina
|| Average
Magical Power
|| Fair
Strengths:
Expert Swordsman: Since Yurei utilizes blades, he would obviously be very good at using them. However, he likes to use only one, despite having two blades. Despite this, he fights incredibly well with whichever blades he happens to draw at that time.
Pure Warrior's Mind: Yurei, after fighting an opponent long enough is able to gauge, very accurately how to get through their defenses. He can also do this without thinking too hard about it. This isn't 100%, he's not perfect. But, for the most part, this is one Yurei's most fearsome strengths.
Incredible Sight in Dark Places/Nighttime: Yurei is able to see extremely well at night. He has no idea why he can do this, but he uses it to his advantage regularly.
Weaknesses:
Glass Cannon: Despite the speed, and strength that he can hit someone, Yurei is not able to take alot of hits himself. A few well placed hits can take him out of a fight very easily.
Using too much Blood Magic: If Yurei uses too much Blood Magic, he runs the risk of killing himself, due to blood loss. It's a downside to anyone who uses Blood Magic, and Yurei can only utilize his own blood.
Weakness to Sudden Changes in Light: Yurei, for reasons unknown to him, is very sensitive to sudden changes in light. It causes dizziness for a spell (1-2 posts), and is one of the few ways to knock him off his balance in a fight.
Equipment
Primary Equipment IName:
Shusui (Clear Autumn Water)
Type:
Katana
Description:
 Shusui's blade is black with a distinct reddish purple hamon (hardening line), having the appearance of a saw or sharp teeth. and its tsuba (hand-guard) has flower-like edges. It has no accessories on the hilt, being wrapped with black silk. Kashira, tsuba and kojiri end cap are golden, and the sheath is black, decorated with dark red circles split in even thirds. The blade is made of Divinium.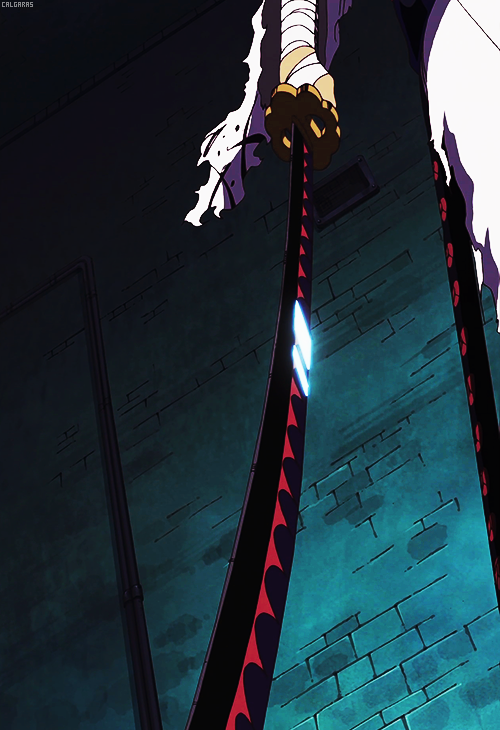 Enchantments:

Name: Fanged Lightning
Type: Offensive
Damage Category:  Weak
Description: Shusui, when Yurei needs it to, is able to shoot blasts of lightning at an opponent. The blade itself starts sparking (cosmetic), and stays on until Yurei uses up the lightning blasts. He can fire off 3, before needing to recharge.
Duration/Cooldown: 3 post cool-down

Primary Equipment IIName:
 Sakabatō (Reverse Blade)
Type:
Reverse Katana
Description:
 Sakabatō is a blade that was designed by Yūrei himself. It was designed to be a non-lethal way of taking enemies down, and has become a staple of Yūrei's. The blade is a very plain katana, which was a choice by Yūrei. It has a normal, black tsuba, and it's hilt is wrapped in black cloth. It's sheath is black also.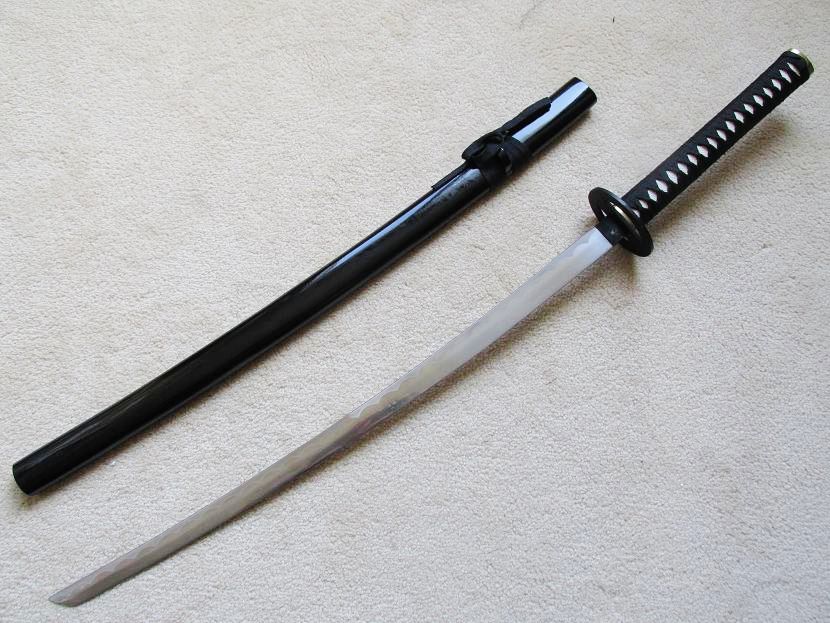 Enchantments:

Name: Hellfire Enchanment
Type: Support
Damage Category: (If any; Very Weak, Weak, Average, Strong, Very Strong)
Description: Yurei, using magic present in Sakabatō, is able to line the blade with black flames, for 4 posts. This means that any attack with Sakabatō has the chance to burn his opponents, and set their clothes/equipment on fire (2 posts max).
Duration/Cooldown: 2 post cool-down

Secondary EquipmentName:
Symbol of Weapon Summons
Type:
 A small piece of metal, in the shape of a fang.
Description:
 The Symbol of Weapon Summons is very self explanatory. Yurei is able to summon both of his blade from anywhere, at any time.
Custom Powers
Battle Mode
Name:
Blades of Blood
Type:
Offensive
Damage Category:
Very Weak
Description:
 If Yurei is cut, he can dip a finger into the blood, and fire off a crescent wave of blood at an opponent. The waves is 5 feet tall, and it is also sharp. Yurei can also dip more than one finger into his blood, and make up to 5, one for each finger.
Cooldown:
Any more than 4. 2 post cool-down
Name:
Blood Sense
Type:
Support
Damage Category:
(If any; Very Weak, Weak, Average, Strong, Very Strong)
Description:
 Yurei, if he concentrates hard enough, is able to sense any beings around him that have blood in their bodies. the effective range is 100 yards in a circle around him.
Cooldown:
2 post cool-down
Name:
Coagulation
Type:
Defensive
Damage Category:
(If any; Very Weak, Weak, Average, Strong, Very Strong)
Description:
 Yurei can harden the blood in parts of his body to act as a form of armor. It is a s strong as steel, and the effective area of the hardening is 7 inches. It also turns the effected area a deep crimson color. Yurei can disengage it at any time, but he can make it last 3 posts before he needs a cool-down.
Cooldown:
3 post cool-down
Name:
Superior Blood Flow
Type:
Support
Damage Category:
(If any; Very Weak, Weak, Average, Strong, Very Strong)
Description:
By making the blood in his own veins flow faster, and harder, Yurei is able to make himself stronger, or faster. Yurei has to decide before using it which he wants to augment. It lasts for 3 posts, and the boosts is only +1.
Cooldown:
2 post cool-down
Blood Manipulation
Name: Blood Control
Element: Blood
Description: Yurei is able to manipulate any blood that has been spilled in a 30 foot area around him. He can only create things 6 feet in height and width. Yurei mostly uses this to create spike to either push an opponent away, or bring them closer.
Effect:  
Duration/Cooldown: 3 post duration with power points reduced by 2 for the duration, 4 post cooldown.
Enhanced Battle Mode (Unlocked at R-1)


Appearance: (Your appearance in this form)


New powers


Name: (this can be anything. Mostly for flavor.)
Type: (Offensive, Defensive, Support, Restorative)
Damage Category: (If any; Very Weak, Weak, Average, Strong, Very Strong)
Description: (give the ability a good description to show how it works and what it does)
Cooldown: (all abilities have cooldowns.)

Name: (this can be anything. Mostly for flavor.)
Type: (Offensive, Defensive, Support, Restorative)
Damage Category: (If any; Very Weak, Weak, Average, Strong, Very Strong)
Description: (give the ability a good description to show how it works and what it does)
Cooldown: (all abilities have cooldowns.)

Name: (this can be anything. Mostly for flavor.)
Type: (Offensive, Defensive, Support, Restorative)
Damage Category: (If any; Very Weak, Weak, Average, Strong, Very Strong)
Description: (give the ability a good description to show how it works and what it does)
Cooldown: (all abilities have cooldowns.)

Name: (this can be anything. Mostly for flavor.)
Type: (Offensive, Defensive, Support, Restorative)
Damage Category: (If any; Very Weak, Weak, Average, Strong, Very Strong)
Description: (give the ability a good description to show how it works and what it does)
Cooldown: (all abilities have cooldowns.)

Name: (this can be anything. Mostly for flavor.)
Type: (Offensive, Defensive, Support, Restorative)
Damage Category: (If any; Very Weak, Weak, Average, Strong, Very Strong)
Description: (give the ability a good description to show how it works and what it does)
Cooldown: (all abilities have cooldowns.)

Boosts: (choose four +1 stat boosts for your character for this form. This can be stacked on a human's Heroic Trait boost. An example would be +1 stamina, +2 Durability (Heroic Trait), +1 Strength and +1 Agility. Max of +1 to any boost, and +2 to heroic Trait.)


Ascended Mode(Unlocked at E-1)/Ascended Hero Mode(Hero, Unlocked at E-5)


Appearance:(Your appearance in this form)


New powers


Name: (this can be anything. Mostly for flavor.)
Type: (Offensive, Defensive, Support, Restorative)
Damage Category: (If any; Very Weak, Weak, Average, Strong, Very Strong)
Description: (give the ability a good description to show how it works and what it does)
Cooldown: (all abilities have cooldowns.)

Name: (this can be anything. Mostly for flavor.)
Type: (Offensive, Defensive, Support, Restorative)
Damage Category: (If any; Very Weak, Weak, Average, Strong, Very Strong)
Description: (give the ability a good description to show how it works and what it does)
Cooldown: (all abilities have cooldowns.)

Name: (this can be anything. Mostly for flavor.)
Type: (Offensive, Defensive, Support, Restorative)
Damage Category: (If any; Very Weak, Weak, Average, Strong, Very Strong)
Description: (give the ability a good description to show how it works and what it does)
Cooldown: (all abilities have cooldowns.)

New Boosts: (Choose Another four +1 stat boosts for your character for this form. You can stack them on the previous forms boost, or add boosts to the other stat. An example would be +1 stamina, +3 Durability (heroic Trait), +2 Strength +1 Agility, and +2 Magical power. Max of +2 to any boost, and +3 to heroic Trait.)
Background
History:
(tell us about your characters past)
Side notes:
(anything else?)
Rp example:
(Give us an example of your rp style. Note, you only need to do this for your first character.)

---
Permissions in this forum:
You
cannot
reply to topics in this forum